Discussion Starter
·
#1
·
Some of you may have seen my previous posts that have mentioned this fuel controller in passing. Well, here are the details.
First I will say that I work for PerTronix Performance. We have been in the Automotive Electronic Aftermarket business for over 40 years. Our core business for many years was Electronic Ignitions and for the past 10 years we have also been in the Exhaust Header business after acquiring a couple of 50 year old exhaust companies.
Last year I worked with Rick Dobeck who was the original founder, inventor and owner of DynaJet. Rick sold the company years ago and became bored and started developing Fuel Controllers again. His original Techlusion TFI is still well regarded by many. The next generation of technology is what we incorporated into out Patriot Top Fueler. This Fueler is a Load Based unit that is Plug N Play and is completely adjustable by the end user with no computer or downloading necessary. Here it is installed on my XR.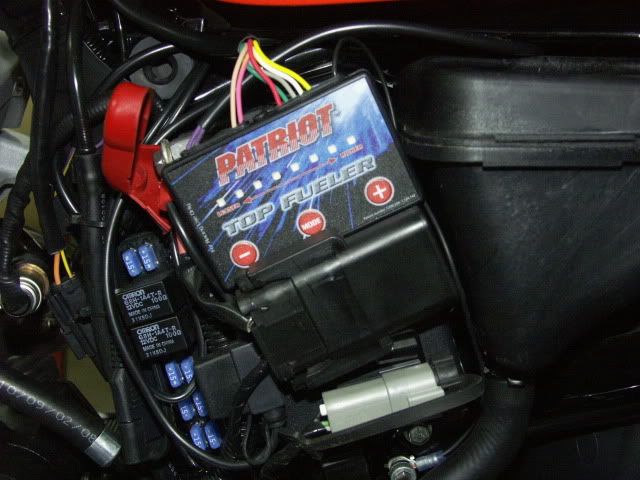 The Top Fueler plugs into the original Harley Wiring harness using OE plugs at the injectors and the O2 sensors. There is also a ground wire that is connected to the battery or the frame.
In stock form the XR ECU runs in a closed loop mode during idle, cruise and mild acceleration and relies on the O2 sensors to hold the fuel at approx. 14.7 A/F. Under hard acceleration and wide open throttle the ECU switches to open loop and uses pre programmed factors to richen the mixture . The main reason for the closed loop operation is to meet emissions standards. The Top Fueler sends it's own signal to the O2 sensor input of the ECU so that the ECU thinks it is seeing that lean 14.7 all the time. By doing this, the Fueler can then add fuel as necessary to obtain a more optimum A/F for greater power and cooler running.
Simple membrane buttons on the front of the controller allow the owner to modify the preset map that I program in. You have 6 modes that can be controlled; Idle/Cruise, Acceleration, Wide Open Throttle, Deceleration, Acceleration Load (when it transitions from Cruise to Acell), Wide Open Load (When it transitions to wide open throttle mode). Colored LED lights tell you what setting you have and are modifying to. All of this can be done on the bike. You can go for seat of the pants and plug readings OR put it on a Dyno. The set up that comes pre programmed will be very close for most.
This unit is NOT made to replace high end products like SEST, Thundermax, or even Power Commander. It is designed for the average XR owner that is going to change pipes and air cleaner, maybe cams if anyone comes up with something better than stock. We feel it is Superior to the Fi2000, Fuel Pak, and other similar types. Unlike the XiED's this is not a preset voltage change to the O2 sensor that only works in closed loop mode, but real time adjusting of the mixture based on pre set parameters combined with load sensing from ECU. It also modifys the Open Loop fuel mixture. These are made in the USA and they normally sell for $299.95 but I will sell them direct to members of this forum for $250.00 including shipping if you contact me direct.
Sorry this is so long, but I thought some of you might be interested in this product. Feel free to ask any questions, Thanks, Don