·
I'll keel haul ya scurvy dogs!
Discussion Starter
·
#1
·
This is Deb's mod, not mine. I just did it, and thought that I would share.
Remove the mufflers and get a 1 led flashlight and find out how they are put together!!!!!!!! You will see that there is a wall between the small out pipe at an angle. Between that angle wall is the end of the out pipe about 1 inch short of the wall. To find this out put the light on a string and learn fishing a muffler. Now go to Home depot and buy a Ridgid 1 1/2 " hole saw, Arbor, and 6" extension for arbor. About $40. Take it slow at first becarse you are going to cut through on steel on a slope!!!!! Tilt the hole saw towards the side that the out pipe is. Once you get the saw set into the steel so that it guides the saw continue sawing to the area where the angle stops. Now you are just about home now.. Now you must pry the angled steel out of the way, about 45* Now you can see the end of the 1 1/4" out pipe.
So o.k, it is kinda hard to take pictures of the inside of the exhaust, so I drew on up on MS paint to help out.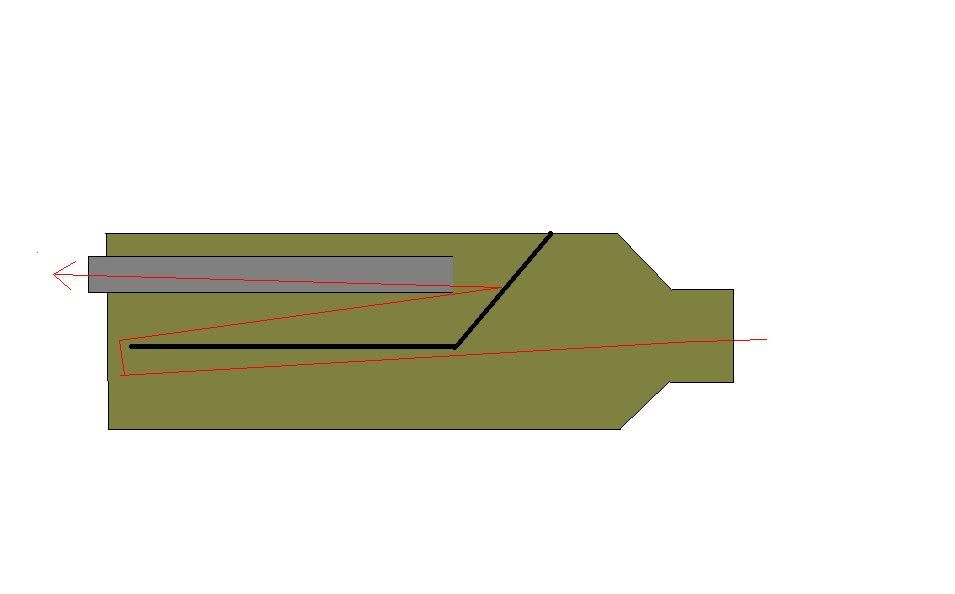 Hopefully this will make it a little more understandable. The exhaust goes in, down, around, up, and back out the little pipe before it finally gets out. Put the hole saw in, and try to get a good bite on the angled wall, and give it all you got. It was a pretty long process for me. It isn't that easy, so like she said, take it slow. I haven't put the pipes back on yet, because I trashed the gasket on one of them, and none of the dealers around me carry them in stock. Now I have to wait for new ones to get in. After I get them mounted back, I will post a before and after sound bite for you guys and gals. Hopefully this cleared things up a little bit.
Joe