Discussion Starter
·
#1
·
D&D Bobcat 2 into 1 exhaust review-pics/vids/dyno #'s
*Updated weights*
*Updated with more pics and video!*
*Updated dyno results below!*
Well, I guess I'll start a review and edit it as I have more info and media. here goes,
Looks;

This system looks freakin awesome! I love it!:1eye:
Nothing but positive comments from customers, coworkers, and friends.
The carbon is great quality, looks pretty sweet too.
Finish is overall very good.
One issue I have personally with the finish though is the end cap. Its not horrible, but I was expecting slightly higher quality for a system at this price level.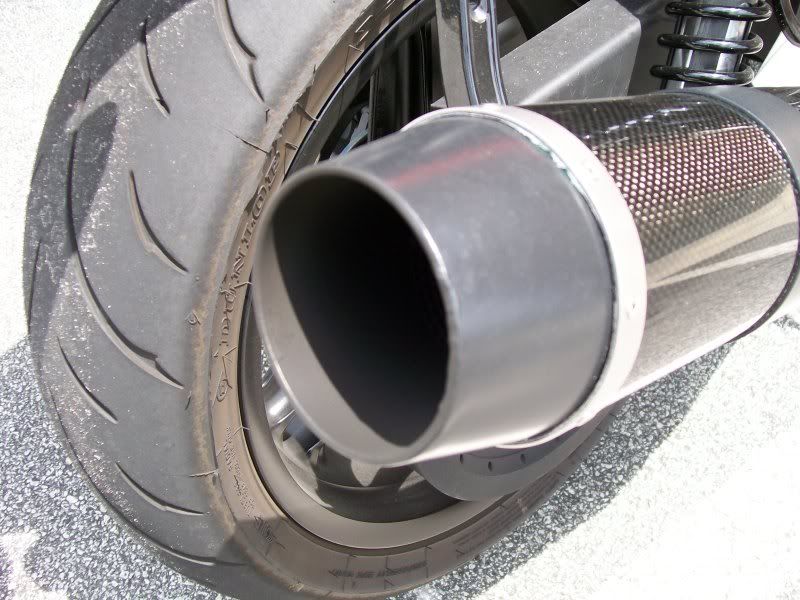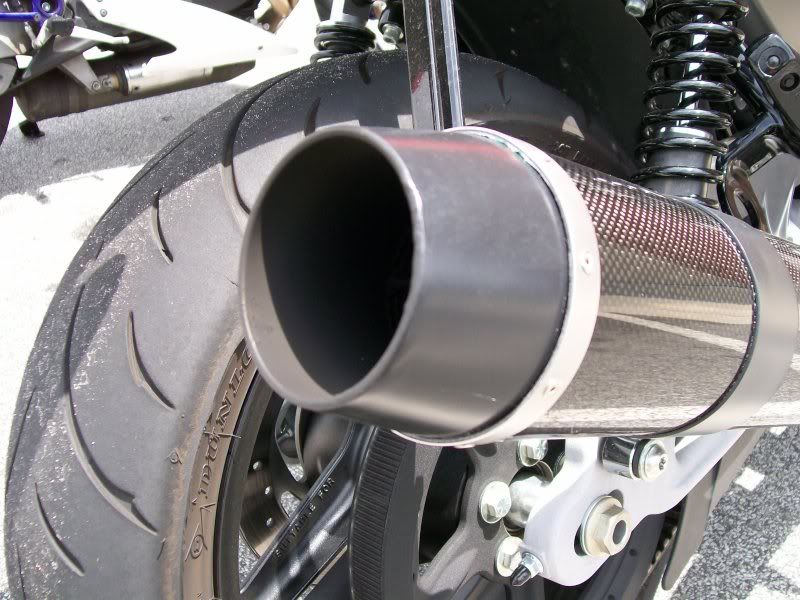 The D&D representative stated that it looks this way due to its construction, two pieces welded together. He also looked at some more of em that they had and they looked similar.
I'll try to get some more pics tomorrow, it needs a good bath
Construction/Fitment/Quality;
The head pipes are very well crafted, the welds are beautiful. I'm not sure what the gauge of the steel is but it appears to be pretty stout, contributing to the weight of the head pipes. I think this will prove to be a very durable system. The head pipes are stepped.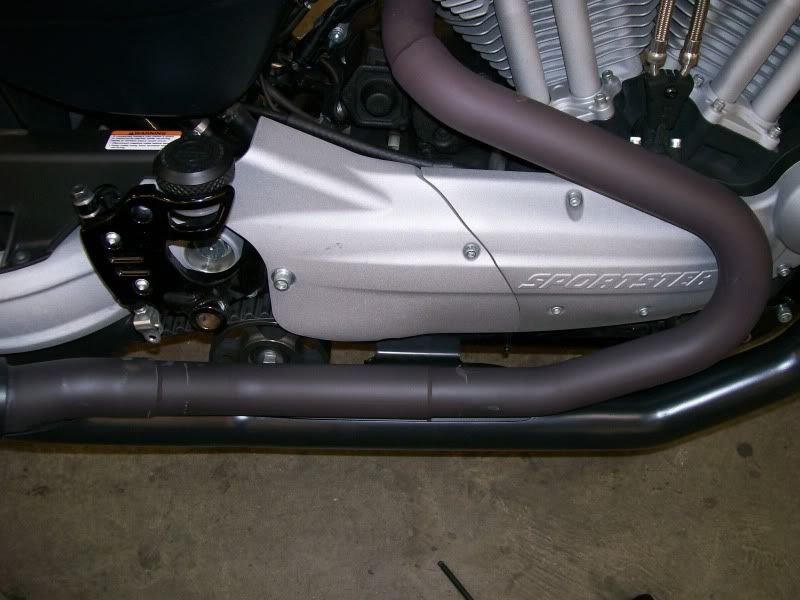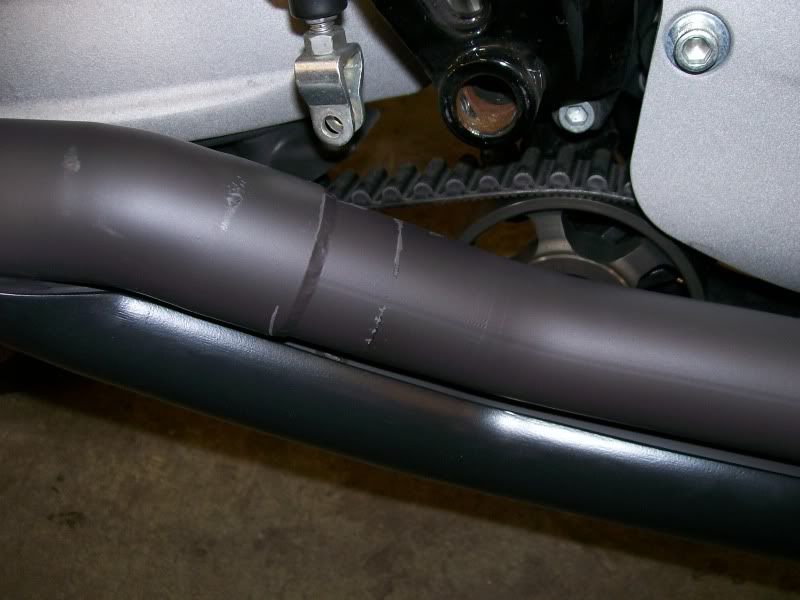 The muffler is also pretty well crafted. The baffle is pretty interesting, perforated metal surrounds the outside of the inside(if that makes sense) of the muffler and probably has some packing just on the other side of it. The inner baffle resembles a cylinder that has been flattened on the end at the rear of the muffler. It is also made of perforated metal, the flat part is mounted horizontally in the muffler. I guess the baffle within a baffle is where they get this whole concentric thing.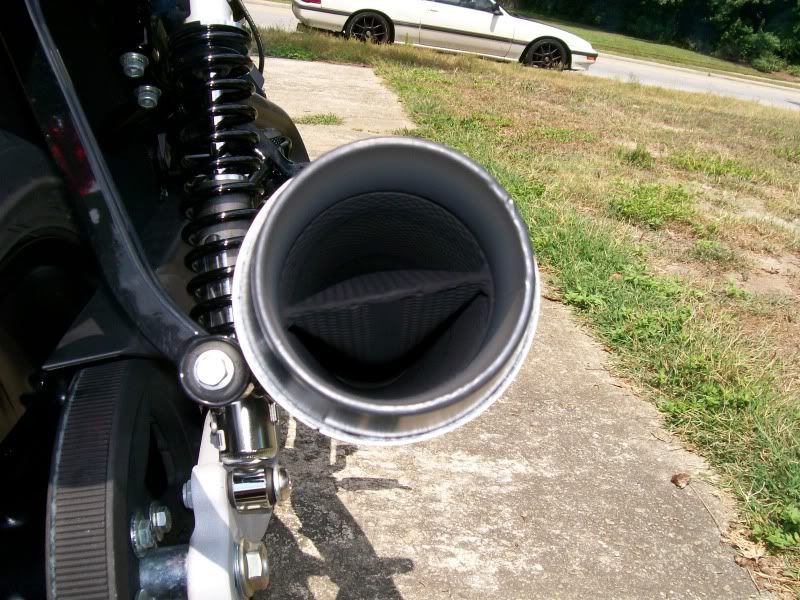 Fitment is great, straight forward install. Quality is very good as well.
I had a heatshield clamp break that damaged the finish on the rear heatshield. I understand this kind of stuff happens though and D&D's customer service took care of it in short order. :thumbsup: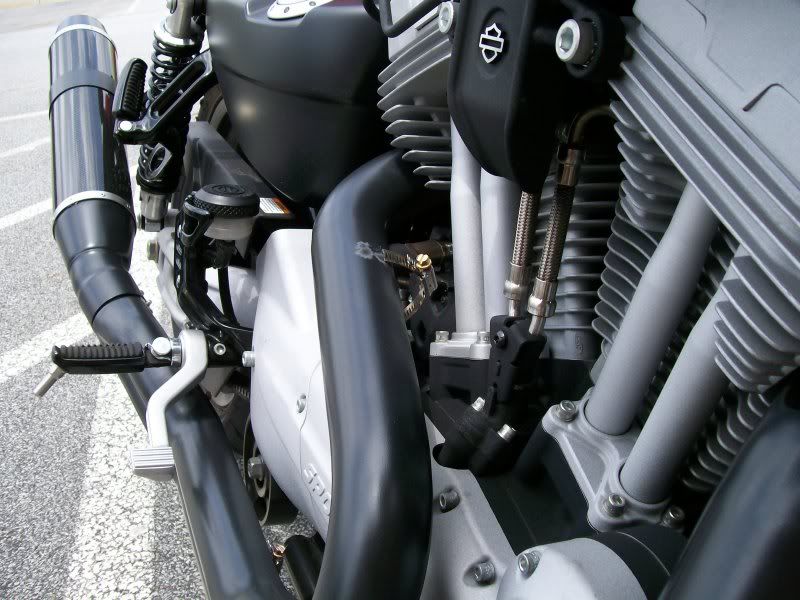 OH NOES!!!1
***BROKEN MOUNT UPDATE!***
Well, I may have spoken to soon about the construction/longevity of the pipe...
Wednesday I noticed a new rattle heading into work. So when I went to smoke a little later I did some investigation.
I checked the nuts at the head, ok. The head shield clamps, fine. Then I saw this;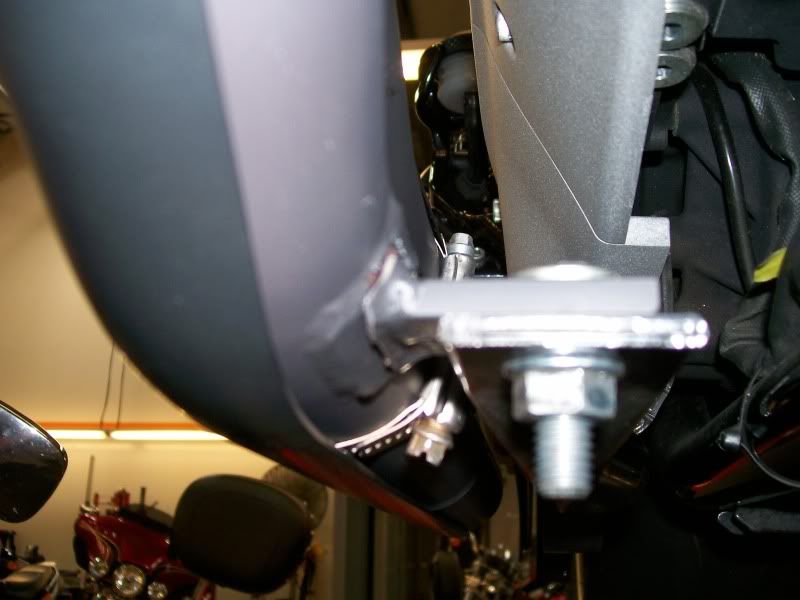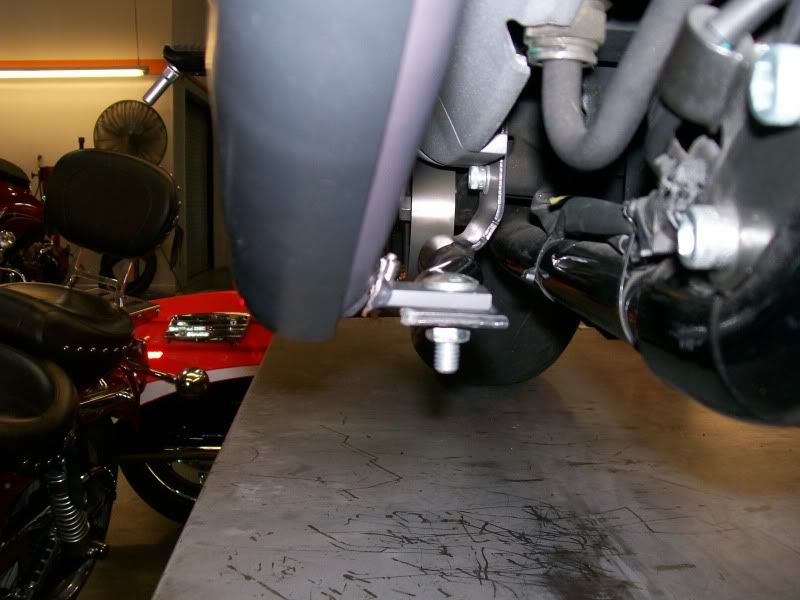 inch:
So, I call up D&D...again. Said send over some pics, they'd take a look. In the response the representative said that they are actually re-designing the mount and it could take a week or so to get my replacement.
Oh well, go to know they are re-designing the part...
Sound;

Wicked awesome!!!:clap:
The sound is very unique. Very aggressive and mean sounding. Over 5 grand sounds like music and decel has cool kinda gargling sound. It is a little louder than I was expecting, but definitely not unbearable. Pretty fitting actually.
Well the audio was pretty good on the old Kodak, so here are some video clips for your viewing pleasure.
And I know your not supposed to wear shorts on a bike.
Acceleration from a stop;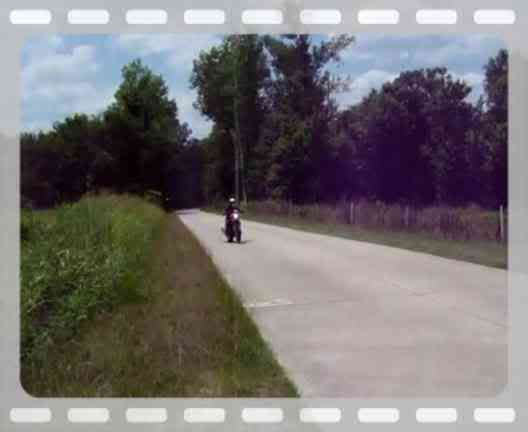 Deceleration;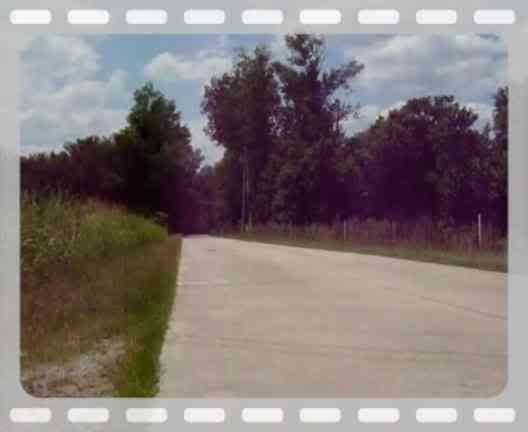 Fly By;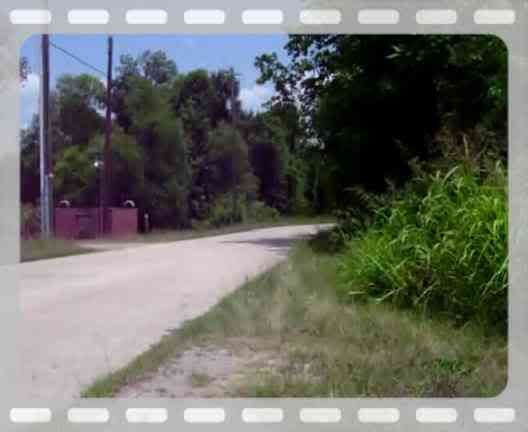 Walk around;
Wheelie fail
;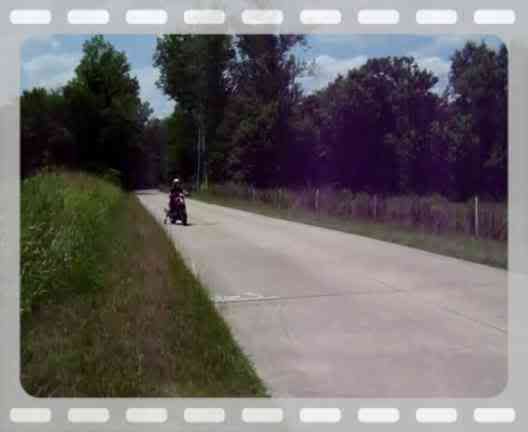 Performance;

Well, as you would image, performance is horrible without tuning. Major lean symptoms, drivability is not very good at all. I suppose you could interpret that as the system doing a much better job at getting the exhaust gases out of there.
*edit* This was confirmed by the dyno results, a/f graphs looked like a roller coaster!
I did some seat of the pants dyno work on the Screaming Eagle Super Tuner(like tuning carbs
) and have most of the lean symptoms resolved.
An interesting note(could be bs though) is a customer says he has some friends at Vance and Hines and they said they were not having very good results with 2 into 1 setups on this bike, instead going with their current offering.
***DYNO UPDATE*** kinda
I was able to get a little dyno time today, we're still having issues with our dyno equipment though
He got two sets of changes through the whole throttle position range on the front cylinder. Unfortunately, we didn't get the rear cylinder tuned. So we copied the front map to the rear. I'm sure, with some more fine tuning on both cylinders, we could come up with a few more ponies. I'll update after dyno repair.
Results?
Completely Stock------------------78.41 hp 67.37 ft-lbs
D&D 2-1, S.E.S.T.(partial tune)-----84.92 hp 74.62 ft-lbs
Improvement---------------------- +6.51 hp +7.25 ft-lbs


Weight;

As indicated in another thread weight savings isn't as much as one would hope. But, the pipe does appear to very robust. I wouldn't expect any premature failures here.
*edit* I did experience premature failure and new new redesigned headpipe weighs a good bit less.
Edit 11-17-09;
Finally got around to posting the weight.
Stock headpipe-------------------------17 Lbs.
Stock muffler----------------------------15 Lbs.
D&D headpipe(original design)-------17 Lbs.
D&D headpipe(2nd design)------------11 Lbs.
D&D muffler-----------------------------8 Lbs.
Stock system total---------------------32 Lbs.
D&D system total----------------------19 Lbs.
Conclusion;

I'm pretty satisfied overall, I would recommend this system.
Decent gains, little pricey, nice sound, kinda chunky, nice sound...
more to come...